Since PS launched its paywall in 2016, November and December have consistently brought in the most revenue. A lot happens at the end of the year. The holidays, obviously. The positive relationship between inclement weather and our media-consumption habits. Elections. But there is also an increased drive to give back and to give thanks. In a nutshell, we're more willing to open our wallets as the days grow shorter.
And so, to provide PS readers with more options during this time of giving, we implemented gift subscriptions.
Although PS had played with the idea for some years, it wasn't until #GivingTuesday 2019 that the program was officially launched. For those familiar with PS, you know its mission is to provide everyone access to the ideas and views shaping our world. The majority of PS content is free, although the archive and select content are behind a paywall. Gift subscriptions became one more way to fulfill PS's mission.
Before we could launch this new feature, we first needed to get our back-of-house in order (read more about that here). Then, we needed a way to build flexibility into the payment options.
This all came down to three challenges:
Flexibility for donors

Account management

Promotion
Here's how we did it:
Flexibility for those giving the gift was crucial. We gave them options to email a notification of their gift and the ability to print a gift certificate with a unique code, which could then be delivered in person.
Additionally, gift-givers can set the time their gift subscription will go live, either when an email is sent, or when the recipient enters their unique code from the certificate. We also built in the option for a recurring, rather than one-time, gift (PS subscriptions renew yearly).
We also needed to ensure that the same sort of flexibility existed for the recipients. Through this program, new PS subscribers can easily update, pay, or cancel their subscriptions at any time.
For promotion, we created on-site banners and pop-ups tied directly to sale campaigns and subscription drives, starting with #GivingTuesday. We also personalized messages based on audience behavior. Current subscribers and our most loyal readers, for example, were shown slightly different messages than those who don't wear their "I ❤️ PS" T-shirts religiously.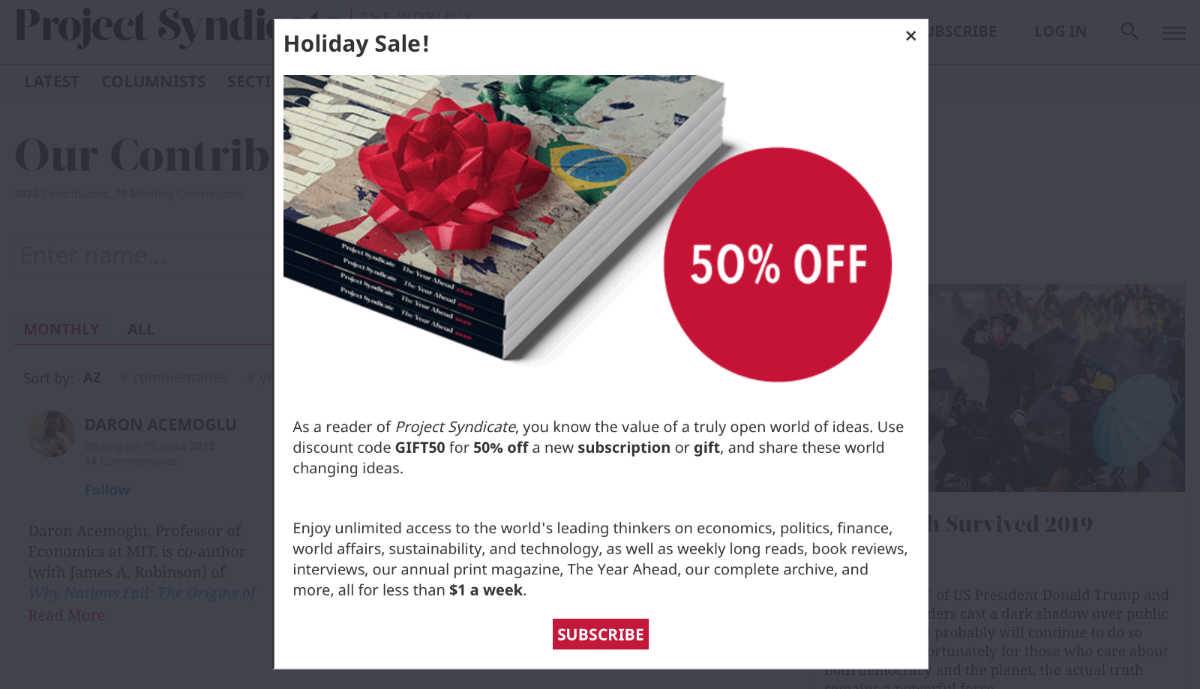 (Note: Personalized, on-site messaging is a new feature from the development team, and we'll get into the specifics behind this in a separate post.)
Further promotion took place across social media, where we tested not only messaging for winning over conversions, but also imagery and audience targeting.
We're starting to see encouraging results. Subscriptions for the 2019 holiday season were up 39% compared to 2018.
There's still room for improvement, of course. We need to further tighten our messaging and targeting, and implement options such as "buy one, get one," which has proven tricky conceptually, raising questions surrounding validity and notification. But we're confident in the direction we're heading.
The work surrounding gift subscriptions also brought up another challenge: Can we create a referral program for readers, columnists, and the "I ❤️ PSers"? That's next on How We Built This.
Have tech questions you'd like answered? Email me at dietrich@ludopoli.com. Learn more of the specifics of our strategy, as well as the technology that powers it, by visiting the Flowli website.