Did you know that Project Syndicate is present in more countries than McDonald's? Its membership includes over 500 publications in 156 countries (in case you're wondering, McDonald's is in 120 countries, even though it had a big head start).
Project Syndicate began in the early 1990s as an initiative to assist newly independent media in post-communist Central and Eastern Europe. In the ensuing years, it rapidly expanded to Western Europe, Africa, Asia, and the Americas, providing the highest-quality opinions and analyses to readers in developed and developing countries alike.
Last year, PS distributed 1,318 commentaries by 590 contributors, for a total of 18,716 publications. Managing that workload requires a robust CMS that facilitates seamless interaction not only with member publications and their editors, but also among PS's in-house digital and sales teams. In this post – the first in a two-part series on syndication – we will give readers a behind-the-scenes look at the syndication program that underpins Project Syndicate's business, beginning with the technology behind it, developed by my team at Ludopoli.
For Member Editors
Project Syndicate's syndication platform is part of Ludopoli's Flowli publishing system. Each member publication – and all relevant editors – receives an account through a syndication portal, called the "EdNet." The portal's dashboard highlights critical information, including each commentary's word count, a list of languages into which it has been translated, and options for image downloads. When new content is ready, editors receive a notification email, which prompts them to log into the EdNet, where they can retrieve the commentary.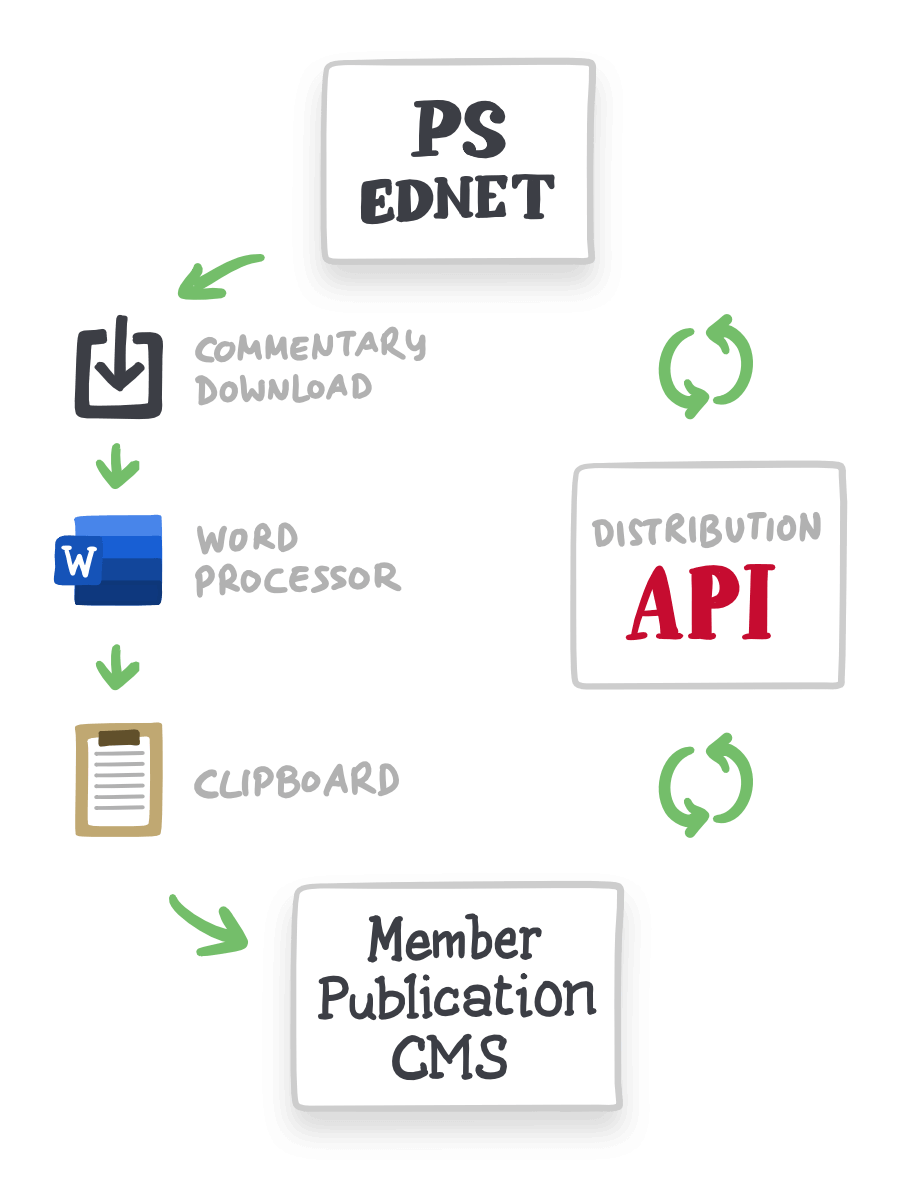 The first – admittedly ho-hum – option is for editors to download the new file, which they can then upload (or copy and paste) into their publication's own CMS. But my tech team has also devised a second, more efficient option: If a member editor has connected their publication platform to Project Syndicate's distribution API, they can transfer the new commentary directly into their CMS, eliminating the need for downloads, style changes, or other extra tasks. This also simplifies previews and searches.
Unlike the manual download option, the API automatically updates commentaries if corrections or changes are made after publication. It also alerts the relevant editors via email notification. Finally, the API allows for a range of syndication subscription offerings, from monthly series to pay-per-downloads. We will delve deeper into these options next month, in part two of this syndication series.
For the PS Digital Team
Beyond acting as a hub for member editors to browse and retrieve Project Syndicate commentaries, the EdNet provides the sales and digital teams at PS with up-to-date information from member publications, including publishing data and search queries, as well as an incorporated messaging system.
One of the EdNet's most important features is the tracking code, which member publications implement on their websites. This code is automatically embedded into the HTML of any syndicated PS commentary, allowing the digital team to understand each article's global impact better – an imperative that arose from Project Syndicate's work with the Bill and Melinda Gates Foundation. To facilitate impact assessment, Ludopoli has designed new digital tracking tools that record and report concrete outcomes of Project Syndicate's work.
It is no secret that the media industry has changed substantially in recent years, as its long-standing business model has crumbled. As budgetary pressures force publications to do more with less, syndicated content has become a lifeline for many. But Project Syndicate goes a step further than most content providers: by delivering the highest-quality content at deeply subsidized rates or even free of charge, if needed, it ensures that financial or political pressures do not cut people off from the ideas and information they need. A seamless syndication portal is essential to support this vital mission.
Next month in "How We Built This," we will move beyond the technology that powers the EdNet to provide a glimpse into how PS builds relationships with its partner publications around the globe. Learn more about PS syndication offerings here.